This article, European coven, belongs to SaiyukiLover232.
European coven
Founding information
Founding time

Unknown

Residence

Forks, Washington (current location)
London, England
Bergen, Norway
Trondheim, Norway
Jyväskylä, Finland
Almaty, Kazakhstan
Lille, France
Bremerhaven, Germany
Mt. Washington, New Hampshire
Cold Bay, Alaska
Elkins, West Virginia
Astoria, Oregon

Founded by

Mikael and Esther

Alias

The Originals
The Mikaelsons
Mikaelson Family
Bloodsuckers (by shape-shifters)
Mikaelson Clan
Leeches (by Leah Clearwater)
Mikaelson Coven

Membership information
Members

Mikael
Esther
Dahlia
Freya Mikaelson
Finlay Mikaelson
Eleisah Mikaelson
Niklaus Mikaelson
Kolaiah Mikaelson
Rebekah Mikaelson
Sage Mikaelson
Katerina Rosales
Hayley Labonair
Davina Labonair-Rosales
Quinn Rosales
Hope Labonair-Rosales


Special characteristics
Special abilities

Mikael: Sensory Indentification
Niklaus: Phobikinesis
Kol: Pain Inducement
Katherine: Cerebrokinesis
Hayley: Precognition
Davina: Mental/Physical Shield
Quinn: Relationship Manipulation
Hope: Negation/Augmentation

Affiliation
Occupation

Mikael: landowner, warrior & hunter (human life); CEO of multiple companies (vampire life)
Esther: housewife (human life); fashion designer & architect (vampire life)
Dahlia: housewife (human life); teacher & CEO (vampire life)
Freya: High school/college student, lawyer (vampire life)
Finn: hunter & warrior (human life); professor (vampire life)
Elijah: hunter & warrior (human life); doctor, lawyer & historian (vampire life)
Niklaus: hunter & warrior (human life); artist & architect (vampire life)
Kol: hunter & warrior (human life); soldier, doctor & high school/college student (vampire life)
Rebekah: nurse & high school/college student (vampire life)
Sage: housewife & basket weaver (human life); professional boxer & author (vampire life)
Katherine: heiress (human life); nurse & high school/college student (vampire life)
Hayley: high school/college student (human & vampire life)
Davina: high school student (human & vampire life)
Quinn: hunter & warrior (human life); carpenter, soldier, ambulance drive, immigrant worker, mechanic & high school/college student (vampire life)

Companionship

Olympic coven
Denali coven
Rosales family
Labonair family

.
"
We are the Original family... the first vampires.
"

— Rebekah Mikaelson
The European coven, more commonly known as the Original family or the Mikaelson family, and also known as the Mikaelson clan, or Mikaelson coven, is coven of vampires. It consists of Mikael and Esther, the founders of the coven; Freya, Finlay, Eleisah, Niklaus, Kolaiah, Rebekah, and Sage Mikaelson; Katherine and Quinn Rosales, as well as Hayley Labonair; and finally, Davina and Hope Labonair-Rosales. Eight of the fifteen members are supernaturally gifted.
The Mikaelsons are the oldest coven of vampires, and are considered to be the most powerful. They are also the second largest coven, with the Volturi ranking higher in number. The Mikaelsons are more mature and stable than most others.
They are known to be very loyal to each other, though they have also shown that they have no issues with constantly betraying one another as well. However, they always forgive each other in the end. Due to most members of the coven actually being family members and blood-related, they were able to keep their strong family bonds when they became vampires.
Early Lives
Edit
European coven extension
Edit
Desired members
Edit
Family Tree
Edit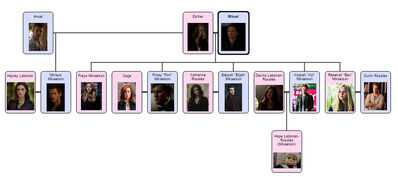 Known Locations
Edit
Ad blocker interference detected!
Wikia is a free-to-use site that makes money from advertising. We have a modified experience for viewers using ad blockers

Wikia is not accessible if you've made further modifications. Remove the custom ad blocker rule(s) and the page will load as expected.