Character of the month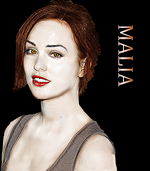 Malia Dolcesconi (born in 1732), is a vampire and member of the Mashike Coven. She is the creator and adoptive sister of Haneru Dolcesconi. An Italian vampire, Malia had been feeding upon war victims only, because...

News
The first part of Breaking Dawn will be in theathres this year!

In the spotlight
Nothing yet :)
Ad blocker interference detected!
Wikia is a free-to-use site that makes money from advertising. We have a modified experience for viewers using ad blockers

Wikia is not accessible if you've made further modifications. Remove the custom ad blocker rule(s) and the page will load as expected.